Conservation and Crop Insurance Research Pilot
In 2019, unusually wet weather prevented planting on 19.6 million acres in the Midwest, resulting in $4.2 billion in prevented plant insurance claims. In partnership with the University of Illinois at Urbana Champaign and USDA, AGree developed the Conservation and Crop Insurance Research Pilot to analyze data from six states—Indiana, Illinois, Iowa, Missouri, Minnesota, and South Dakota—to better understand how use of cover crops and tillage practices affected corn and soybean planting dates, the number of prevent plant acres, and crop yields in that extremely wet spring of 2019.
The project had a seminal finding on the positive impact of conservation practices for reducing crop production risk. Across the 6-state region, consistent use of cover crops and no-till/reduced-till resulted in a 24% reduction in the odds ratio of prevent-plant loss in 2019. These findings demonstrate that conservation practices can help farmers mitigate their risk to wet weather conditions.
A secondary objective of this project was to test whether data collected by USDA on conservation practice adoption and crop insurance indemnities could be combined with external satellite datasets to conduct rigorous scientific research in a way that protects producer's personally identifiable information. The research team accomplished this and identified key recommendations and opportunities for USDA to improve its collection, management, and sharing of conservation practice data for future research and analysis. Recommendations for USDA include:
Determine an effective method for collecting annual cover crop and no-till usage data on a field-by-field basis, either through more robust and consistent data collection efforts through local USDA offices (eg., using existing data entry format on cover crops), or by use of remote sensing data with some verification of the remote sensing analysis through on the-ground observations.
Evaluate how to develop more consistency in gathering relevant data at the geographic unit and reporting data with the same geographic identifiers. This would help create cross-compatibility between agency databases tied to the geographically identified unit for each mapping layer of interest.
Pursue standardization and synchronization of time stamps for reported crop management practices and results in terms of yields. This recommendation could substantially reduce complexity in data collection and reduce costs. It could also improve understanding of which practices were effectively implemented alleviating reliance on complex surveys of stated intentions for a crop or practice.
Explore use of robust available sources of weather data to match annual weather conditions to geographic land unit by constructing appropriate data layers in their system and/or support third party efforts to do so.
Develop an approach that leads to one common data set for each land unit (e.g., CLU, field, latitude/longitude grid, etc.) so that USDA staff and cooperators have accurate and consistent information including conservation activities and measures of crop performance.
Consider developing a process that researchers can use to access a broader cross section of USDA data while maintaining producer confidentiality. USDA ideally could provide a standard data format that is accessible to other external groups so that internal USDA data are better connected to external data sources and the data can be of greater public benefit.
This important research project would not have been possible without the efforts of several staff from multiple agencies at USDA. Dr. Bruce Sherrick from the University of Illinois led the team to collect, assess, organize, and evaluate data from relevant sources at USDA and the private sector. Dr. Rob Myers from the University of Missouri provided conservation expertise on the research and has led efforts to communicate the research results.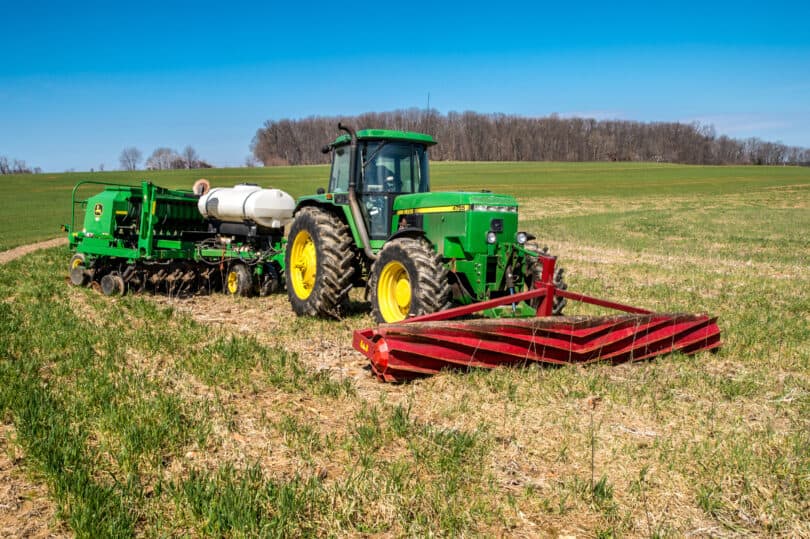 Read the full report
The results of this research can assist USDA in carrying out its conservation and crop risk management mission areas. For more information about the research findings, methods, and datasets used, download and read the full report.
Our Work on Crop Insurance
The findings of the Conservation and Crop Insurance Research Pilot demonstrate that conservation practices can help farmers mitigate their risk to wet weather conditions. However, the risk reducing benefits of conservation practice use are not recognized in the Federal Crop Insurance Program (FCIP). Read more about AGree's work advancing changes to the FCIP that acknowledge how conservation practices can reduce agricultural risk.